Youth Theatre is Back, with The Grunch!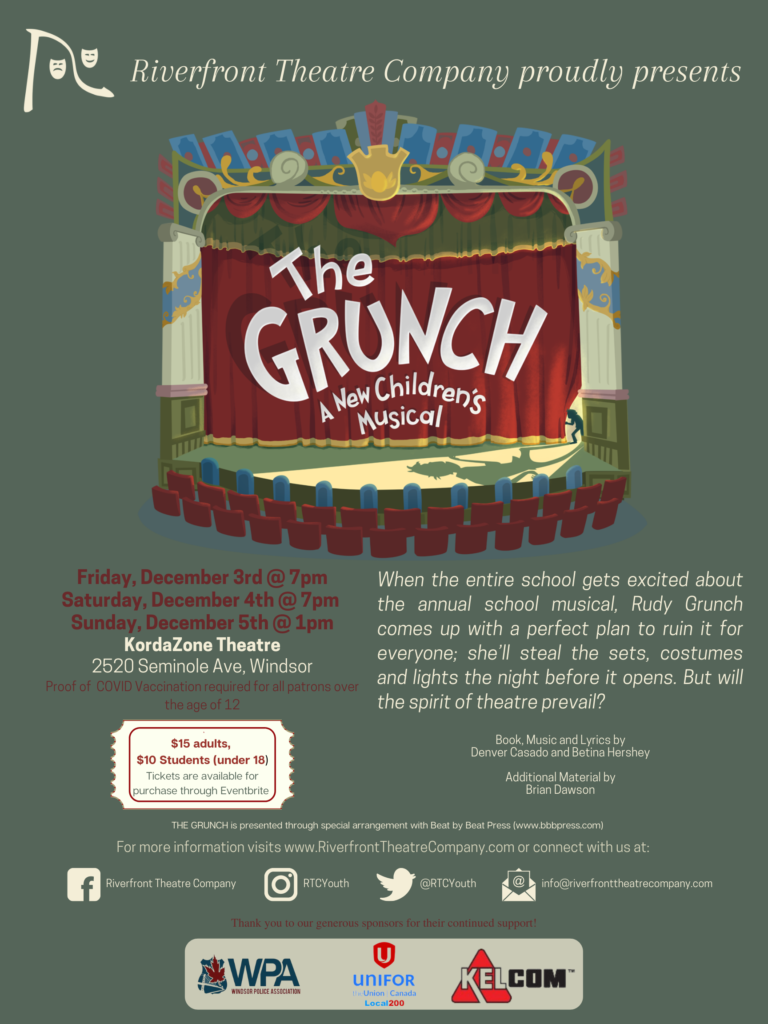 What's Happening?
Youth Theatre is BACK! On Friday, December 3, 2021 at 7 p.m., Riverfront Theatre Company will be BACK ON STAGE with our latest production, The Grunch, a beautifully Grinchy musical, produced by arrangement with BeatbyBeat Press).
We're excited to bring the kids together in front of an audience again. We'll be at a new venue this time, at Kordazone Theatre at the corner of Seminole and St. Luke, and we're really excited to welcome you back to theatre with us, so READ ON, and COME JOIN US!


What's it About?

The Grunch is a wonderfully-entertaining short family musical suitable for all ages. Inspired by "The Grinch Who Stole Christmas", The Grunch tells the story of Rudy Grunch, a grumpy 6th grader who always feels like an outsider. When the entire school gets excited about the annual school musical, he comes up with a perfect plan to ruin it for everyone; he'll steal the sets, costumes and lights the night before it opens. But will the spirit of theatre prevail?
Can I See a Little Preview?
I'm SOLD – Where Can I Get Tickets??
Tickets are available in ever-decreasing numbers, from Eventbrite, so hurry and order yours today! If you wait to buy them at the door, you may be out of luck, so get clicking! Youth Theatre is BACK, and you don't want to miss it!
Please remember that all patrons over the age of 12 must present proof of vaccination against COVID, and all patrons must remain masked within the theatre. There will be no intermission in this show, and no concessions – BUT, we will be having a raffle for two fantastic Christmas baskets!