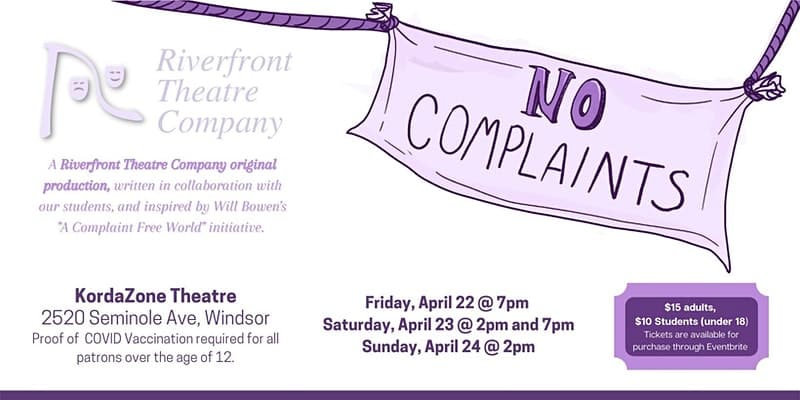 When their drama teacher decides that their first show to be performed live after COVID is going to be Shakespeare's King Lear, the drama group is up in arms, and full of complaints!  So much so that the drama teacher decides to QUIT (and watch surreptitiously from behind the scenes) to force them to pull together. But when one member tries to win the whole group over by introducing them to the Complaint-Free World mentality – then the chaos really begins to unfold!  Not only do the members decide to each go 21 consecutive days without complaining, criticizing or gossiping – they also decide to rid King Lear of unnecessary conflict and drama, and to REWRITE it as a comedy!
This often hilarious, sometimes quite touching original script was written in a collaboration by the Riverfront Theatre Company students during online rehersals in the summer of 2020, during the first wave of COVID.  Themselves frequently challenged not to complain, they pulled together to create this script out of their love of theatre, being together however they could manage it, and, of course, their love of Shakespeare.
Will Bowen, creator of the Complaint-Free World initiative, graciously permitted our use of his initiative in our original script. His purple bracelets, and dedication to helping people stop complaining and making the world a better place, have definitely had an impact on our group.  We invite you to enter into the Complaint-Free approach with us in this play.
We also gratefully acknowledge the City of Windsor Arts, Culture and Heritage Grant Committee for their support of this project.
Please note that all patrons over the age of 12 must be fully vaccinated to attend our performances, and that proof of vaccination must be provided for admission to the premises.
Concessions will not be operating, and face masks are mandatory while in the building. The cast will NOT be conducting a meet and greet with patrons inside the building after the show.  We thank you for your respectful consideration of these COVID protocols.
I'm SOLD – Where Can I Get Tickets??
Tickets are available in ever-decreasing numbers, from Eventbrite, so hurry and order yours today!