On Monday afternoon, Riverfront moves back into the Olde Walkerville theatre for a week of tech rehearsals in preparation for opening our latest production of three one-act plays – Where There's a Will. This "mini-Shakespeare Festival" has been a challenge for our students to work through and we're eager to present it to our community next weekend!
We chose these three one-acts to stretch our students with some Shakespearean content without the full burden of an actual Shakespeare production. They've had some more exposure to Shakespearean language, themes, plot devices and tropes, and gained a greater understanding and appreciation for them. 
The first of the three plays presented will be Shakespeare on a Shoestring: Cymbeline!  This play, written by Michael Calderone, is a great approach to teaching about Shakespeare through examining one of his less-often performed plays, Cymbeline. Calderone's one act, a drama class talks through the plot devices that Shakespeare uses, and works their way through the plot of Cymbeline, acting segments out with humour and energy, demonstrating that of all his plays, Cymbeline alone actually uses all 12 plot devices found in Shakespeare's entire works. 
Our second play will be Robert Wing's Shreds and Patches. This taut, tense play involves eight characters – 6 of the young people from Hamlet, a therapist, and Hamlet's mother and stepfather/uncle. Shreds and Patches explores the idea of the pervading depression and anxiety of Hamlet in a group therapy session, with the disconnect between the generations highlighted with a communication twist. The young  people speak only Shakespearean lines, while the adults speak in modern English.  
We finish up with Postcards from Shakespeare, written by Allison Williams. In this entertaining romp, the audience is introduced to, and amused by, a succession of quick plot summaries pulled together as Shakespeare and Queen Elizabeth I exchange a series of letters and postcards discussing possible ideas for plays while Shakespeare struggles with writer's block. 
Framing and interjecting throughout the production, we have three emcees – two Shakespeare-loathing English students, and Shakespeare himself. They've written original material to help the audience along and explain a few points. 
The entire production is performed by students from grade 6 to grade 12.  The cast has been working on the show, and learning more and more about Shakespeare along the way, since September, although the intensity stepped up in December, once our production of Under Pressure was over.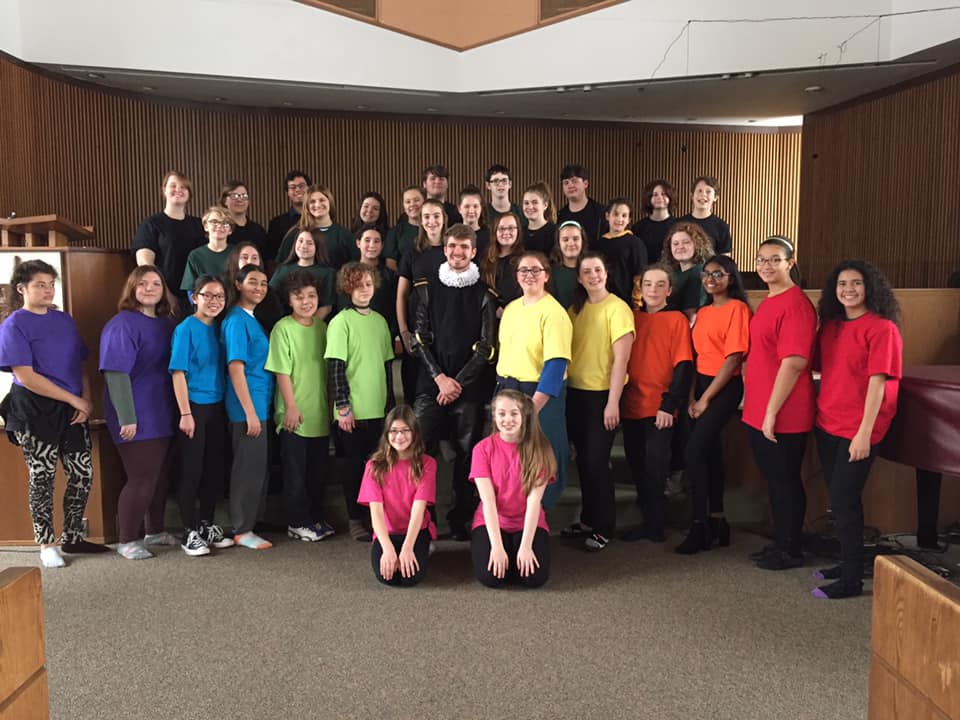 In addition to Cymbeline and Hamlet, we'll be touching on plot and theme similarities between many of Shakespeare's other plays, and highlighting some of the dialogue and characters from many of them. In all, we'll touch on 26 of Shakespeare's 37 plays, spending the most time on Hamlet, The Merchant of Venice, Julius Caesar, and A Midsummer Night's Dream.  
The production will be presented simply, with one musical number to kick off the show, and almost all the actors in plain modern clothing.
The show is aimed primarily at students from grades 6 and up, but promises some enjoyment for those already familiar with Shakespeare as well.
We're proud to have given our students this opportunity for growth and learning, and the chance to present the material, which has been challenging and rewarding.
Tickets are still available for both the school show (Friday morning at 10 a.m. ) and the regular performances (Friday and Saturday at 7 p.m., Sunday at 2 p.m.).  Tickets for all regular performances can be obtained through the Olde Walkerville Box Office online, by phone, or in person.
Tickets for the student performance on Friday morning should be arranged directly with Riverfront, by calling 519-817-8780 or emailing info@riverfronttheatrecompany.com.
There are a limited number of free tickets available for classes on Friday morning, provided under the Riverfron Educational Initiative to make theatre accessible for students.