A Complaint-Free RTC!
On Saturday, January 11, 2020, the students and families of Riverfront Theatre Company trooped into our rehearsal space an hour early. The reason? We didn't want to cut into important rehearsal time for Frozen, Jr., which opens in a little over a month, but we did want to introduce a concept we're planning to workshop and develop for an original show next season. The families came in without knowing what it was all about, but as they arrived, we handed out a purple silicone bracelet to each of them.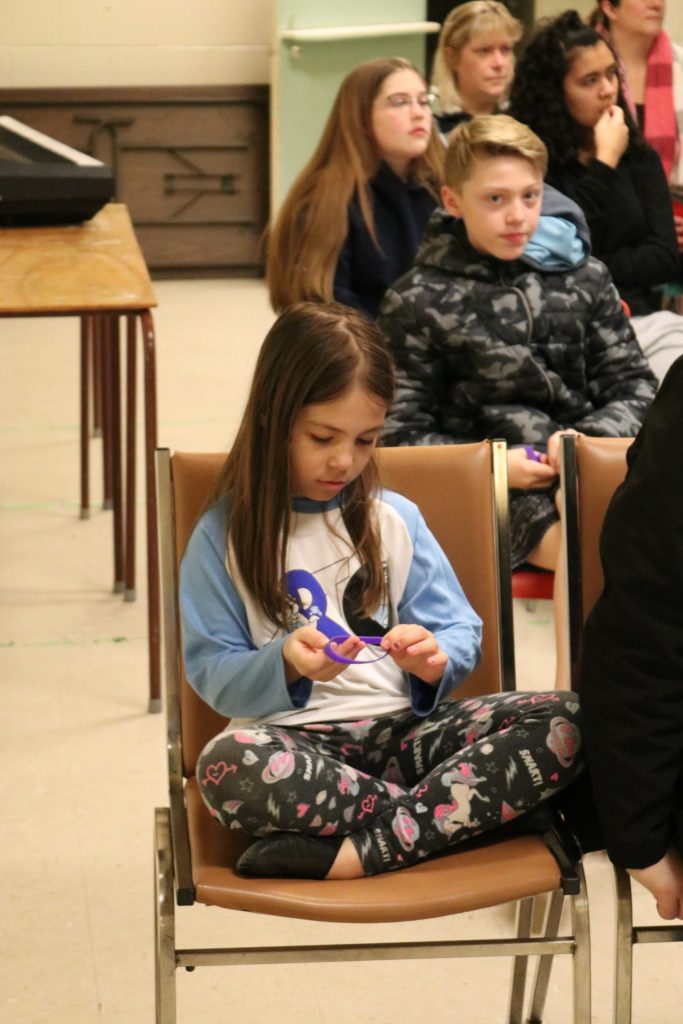 Before Christmas, RTC had reached out to author, minister and public speaker, Will Bowen to ask permission to develop his program, The Complaint Free World concept, into an original stage play. To our great delight, Will was open to the idea, and gave us the go-ahead to start implementing his program with our students, and workshopping a play together.
Joining us this morning was a guest speaker, Dave Garlick, a retired high school principal, who came in to introduce our families to the whole concept of the Complaint-Free World. Dave is very familiar with the program. He has brought students at some of his schools through the program, he's met Will Bowen on more than one occasion, and he even appeared in the movie about the program, A Complaint Free Revolution. He very kindly offered to come in to present it to our families, when we told him what we were planning to do.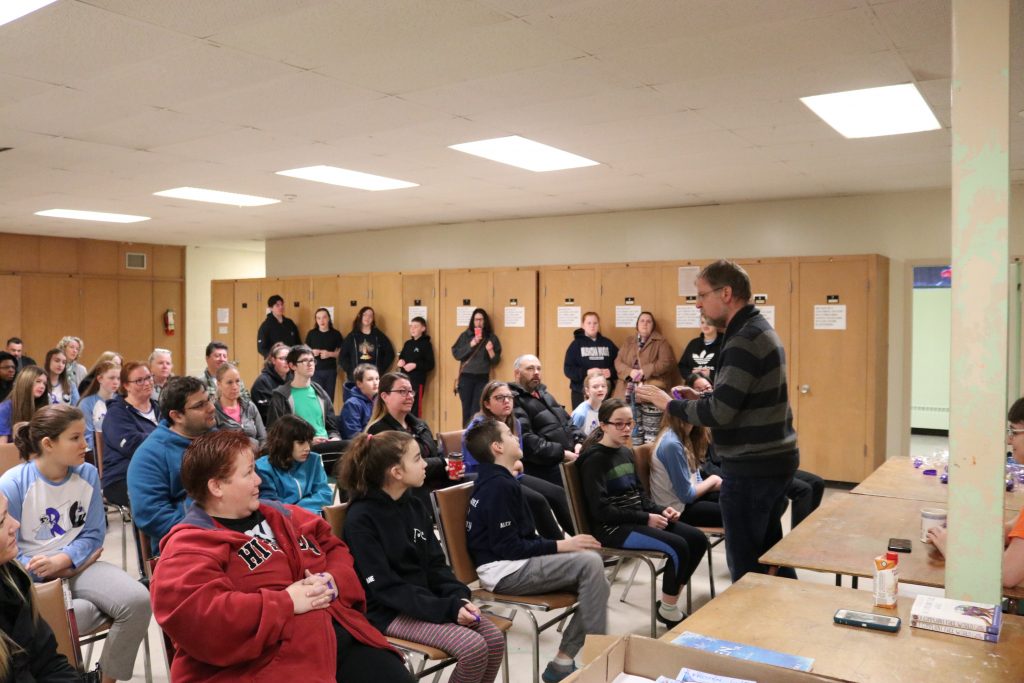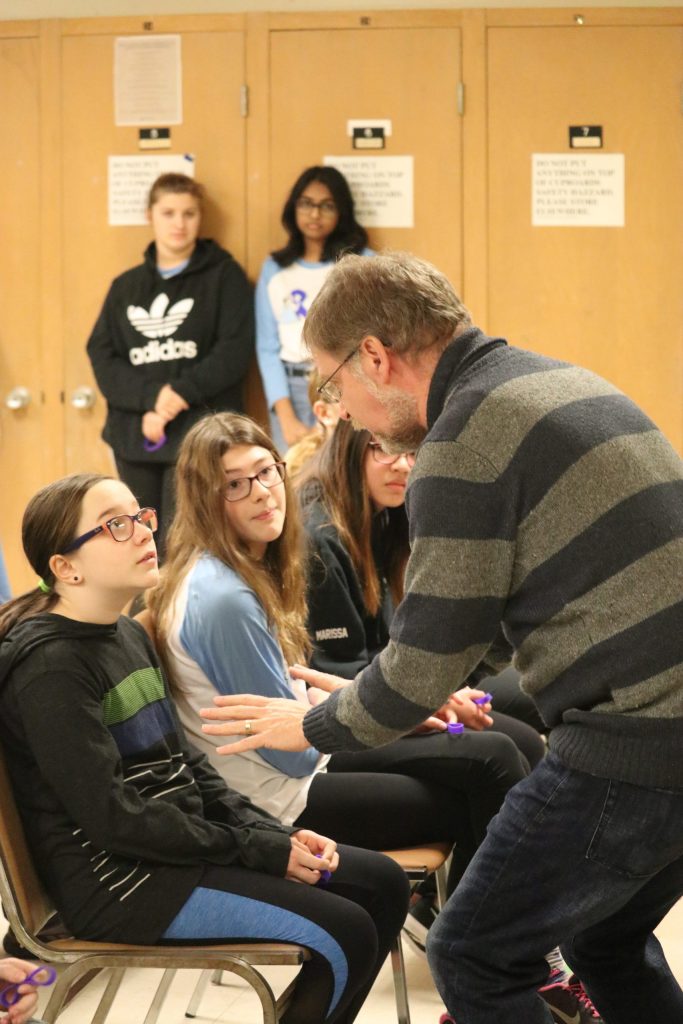 The basic concept of the program is for each person to go 21 consecutive 24-hour days without complaining, criticizing, or gossiping. At all. It's not an easy thing to do! The average person, Bowen tells his audiences, complains about 40 times a day. Our goal was to get our families and students on board participating with this, and let our experience with it tell a story over the next few months. We'll be putting that together into a play, and hopefully, in the meantime, making our already terrific theatre community an even more positive place.
We had 200 bracelets ready for our families, and we went through the better part of our supply! We'll order another set, for sure – but we were thrilled that so many of those in attendance chose to participate and take this challenge.
So – 21 consecutive days. Every time we catch ourselves making a complaint – out loud, or on social media – we switch the bracelet to our opposite wrist and start all over again. We're told that it usually takes people 4-8 months to do this if they stick with it and see it through.
We'll walk through stages. First, we'll become aware of how much we complain! We'll be frustrated by this, and frustrated by starting over, and over, and over – but there's no way to skip this stage. It's crucial. It's recognizing our behaviour and our triggers. It'll be so important for us to remember that there is no shame in Day 1! Starting over is still us noticing and interrupting our behaviour.
These experiences – our successes, our setbacks, our challenges – we're going to take them together and build them all into the shell of a story we're developing for our Seniors next February. Our goal is to have the script completed by July 1st to send to Will Bowen to make sure that he's comfortable with our presentation and handling of his program, before we move ahead with it in rehearsal next fall. So there's a lot of exciting work ahead of us!
Huge thanks to Will Bowen – please go read more about this movement at A Complaint Free World. We will be welcoming any friends who wish to participate in the challenge to join us. We'll have bracelets available at our rehearsals and our upcoming productions, and we'll be tweeting a few updates as we travel on this journey!
#complaintfreeRTCyouth
@WRBowen
@garlicd13