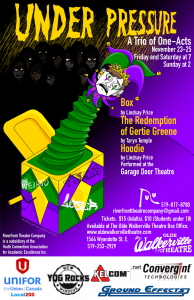 This Friday, November 23rd, Riverfront Theatre Company opens with Under Pressure – our collection of three one-act plays dealing with bullying, peer pressure, and social anxiety.  The timing of our show couldn't be better – this week, November 18-24th, is Ontario's Bullying Awareness and Prevention Week, where Ontario students, school staff and parents are encouraged to learn more about bullying and its effect on student learning and well-being.  At present, we have nearly 200 students attending our Friday morning show – some of whom have been sponsored to attend through our Riverfront Educational Initiative for free tickets.
Our three plays will be performed by our Senior Ensemble – approximately 45 kids between the ages of 11-18.  These are truly ensemble plays, giving all the students a chance to have speaking roles. And the production has given them a chance to share and explore their own experiences and perspectives about bullying.
In our last rehearsal before tech week, we gave the students an extended opportunity to really talk those things through in a forum with everyone listening and sharing, and really hearing how these issues have impacted individuals in the group. Their stories were painful and raw, and the support they showed one another was respectful and gentle.
They were assisted through what was an emotion-heavy morning by the first weekly appearance of Riverfront's brand new Therapy Dog in-training, Piper.  Piper is still a very young and inexperienced "therapist," but was keen to toddle around the group chewing on fingers and sitting on laps, licking noses and wiggling everywhere to lighten the mood and deliver pure love and affection generally throughout our group.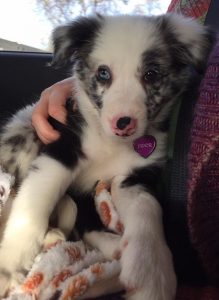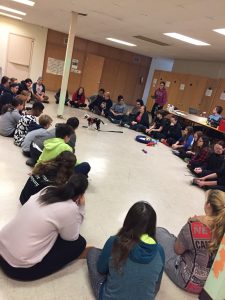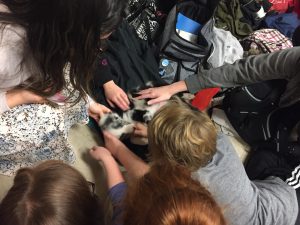 One after another, our cast members shared painful stories of times they had experienced bullying, or being betrayed by someone they considered a friend; they discussed times they had been left out, hurt, put down, judged, and disappointed. It was very clear to all of them that they weren't alone in their experiences, and that it was okay to stand up for themselves, and for one another, as well. One student shared her experience of telling a teacher when someone was being bullied, only to later be bullied and even kicked, herself, afterwards. She questioned whether she had done the right thing or not – the group affirmed the importance of a bystander speaking up, and told her she needed to keep telling, keep speaking out.
The tie-in to our three selected plays, The Redemption of Gertie Greene, Box, and Hoodie, are strong, and the cast is identifying well with the material in the story. It is our hope that audiences will feel the same way.
Under Pressure will be performed at The Olde Walkerville Theatre.  Tickets for the regular performances are available in advance exclusively through the Olde Walkerville box office. They will be available at the door as well, one hour before each performance. We recommend this show for students ages 10 and up, and for any adult interested in a fresh perspective on the stresses our young people experience in their daily lives.
Tickets are $10 for students, $15 for adults. Seating is general admission.
For the rest of this coming week, our cast will be in final rehearsals at the theatre, polishing this, their first performance of the 2018-2019 season.  We look forward to seeing you in our audience!